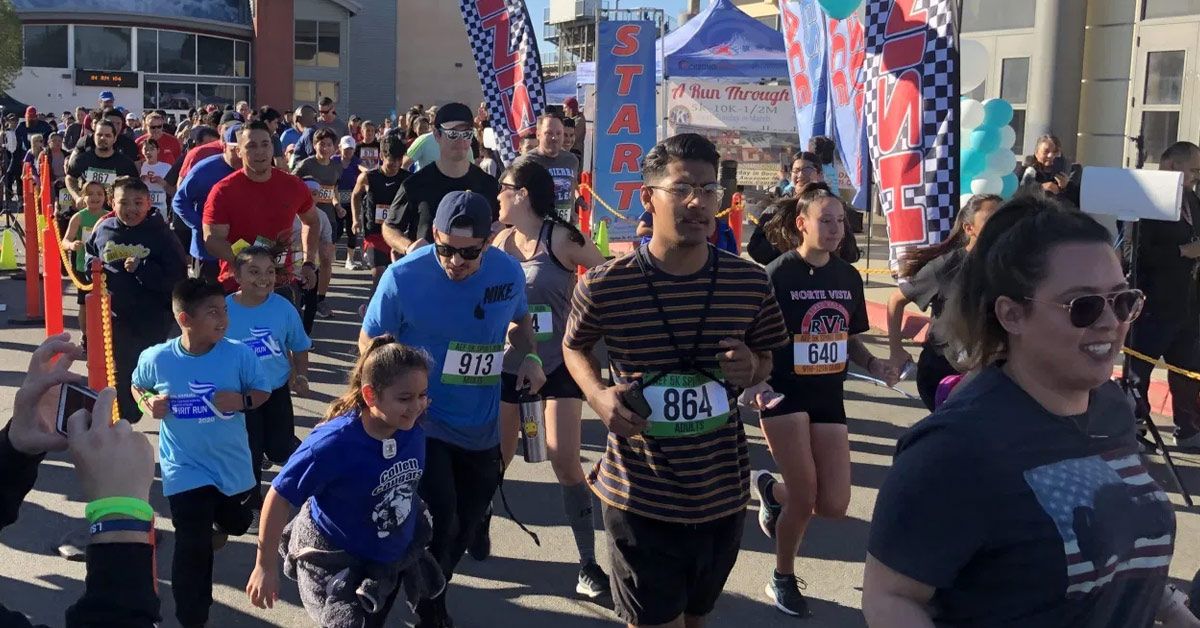 THE AEF 6 TH ANNUAL SPIRIT RUN WAS A GREAT SUCCESS!!
This wonderful Alvord event welcomed all of our students, staff, families and the entire community on SATURDAY FEB. 1st, 2020 to Norte Vista High School, Zack Earp Stadium. The Spirit Run featured a 5K Race from the school and through the lovely La Sierra Hills with "chip" timing. The 1 Mile Walk/Run took place on the stadium track with separate lanes for walkers and runners! Both events were 100 Mile Club certified!
Trophies were awarded for the top three male & female 5K winners. Additionally, medals were awarded to the top three male & female 5k school-age group winners. There was a Runner's Raffle, awarding over a dozen prizes for participants in these events, chosen at random using their "bib" numbers.
The Race winners: 1st —Ernesto Ruiz, Hope Brookins, 2nd—Megan Crom LSU, Ivan Vargas NV, 3rd—Jonathan Martinez NV, Chloe Melikian
GRADE/ AGE MEDAL WINNERS ARE K—5th—Tanya Goday. RMK, Gavin De Lafuente. RMK 6-8th—Ceasar Villarreal. Sierra MS, Hope Brookins. LV 9-12th— Emily Cardenas. NV, Ernesto Ruiz. NV, Adult—Martin Vega, Chloe Melikian
PARTICIPATION TROPHIES for the Elementary, Middle & High Schools with the most participants were awarded! The perpetual trophies went to:
⦁ Collett Elementry School
⦁ Loma Vista Middle School
⦁ Norte Vista High School
A special Thank You to the amazing Volunteers that helped us this year! Especially Norte Vista ASB, Athletics, Football and Girls Basketball for helping produce the event, as well as Hillcrest Baseball, Altura Credit Union Employees, Alvord Nutritional Services and all the individual Alvord Employees & friends who worked at our SPIRIT RUN and supported our students! We appreciate you so very much!"
All the funds generated from our AMAZING SPONSORS and our WONDERFUL PARTICIPANTS are used to award Scholarships to Alvord USD graduating senior students and to give Educational Grants to help student programs in our
ALVORD schools.
THANK YOU TO OUR SPONSORS
6th Annual AEF SPIRIT RUN Sponsor List
$2500 Sponsors
Altura Credit Union
$1000 Sponsors
Schools First Credit Union
Neff Construction
$500 Sponsors
Empire Pharmacy
Awards & Specialties
Kathy Wright aalrr Attorneys at Law
Southwest School & Office Supplies
Raising Cane's Chicken Fingers
Keenan & Associates Insurance
Blackbird Contracting Inc.
Castle Park
$250 Sponsors
Alvord Unified School District Board of Education
Laborers International Union of North America, Local 1184
5 Points Fuel, La Sierra AM/PM (They would like a "5" instead of spelling it)
Ben Clymer's The Body Shop
Sam's Cleaners
Digital Scepter Corporation
Fritts Ford
Preferred Choice Printing
Aquatic Solutions Pool & Spa Services
A to Z Printing
Kountry Folks Family Restaurant
Riverside Road Runners